A Wedding Day
Wedding Days at Picton Castle are special because we go out of our way to make them so…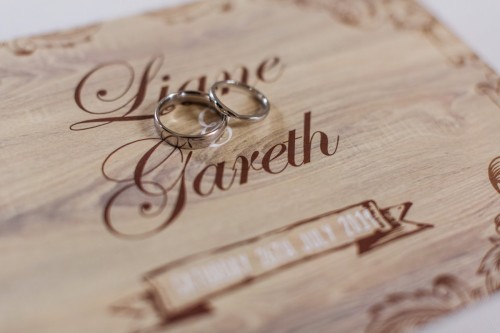 On the Big Day, the grand wrought iron gates between the lodges are opened so guests and wedding party can drive down the lush front drive straight onto the Castle forecourt. It's a stylish start to a special occasion.
Bridal couples have shown lots of imagination in booking their wedding transport. We have seen everything – a host of different horse-drawn vehicles, fabulous vintage cars and modern limos, even helicopters on the south lawn!
A dedicated guide puts out the bans an hour before the ceremony and is on hand to greet early guests, giving them the choice of gathering in the Great Hall, enjoying the gardens or perhaps popping into our Restaurant for tea.
The Registrar usually arrives about 20 minutes before the ceremony to check the Great Hall to ensure all is in order, then awaits the Bride and Groom.
The Registrar is required to have private, individual conversations with the bridal couple to remind them that the commitment they are about to make is legally binding and to ensure that they are entering into marriage willingly and of their own free will.
The interviews over, the Registrar enters the Great Hall, signaling the start of the Bride's musical introduction.
We have seen a great many variations on a musical theme, ranging from iPods plugged into speakers to the full Whitland Male Voice Choir!
Our wedding couples have hired harpists, solo singers, guitarists and pianists. You are welcome to use our beautiful Steinway grand piano. The acoustics in the Great Hall are perfect so, whatever your choice of music, it will sound glorious.
After the ceremony, some use the remaining time in the Great Hall as a photo session, others have a musical recital.
It's YOUR day. Enjoy it!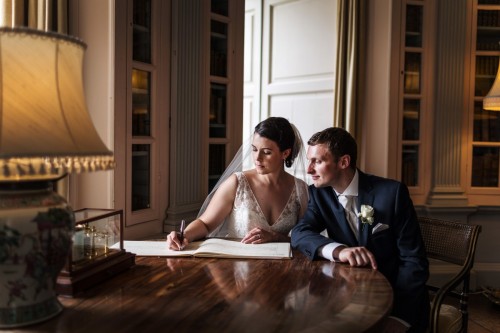 Our thanks to Gareth and Liane Evans for sharing their photographs with us
Download our 2015 Wedding Prices
To arrange an appointment with our Wedding Co-Ordinator, email: info@weddingsbyfiona.co.uk