The Monthly Garden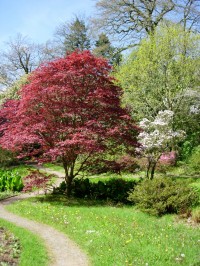 With more than 40 acres of informal woodlands, walks and a walled garden, it's not surprising that our visitors sometimes don't know where to start. So we've started giving copies of our new site map so that you don't miss out on the delights of the gardens at all times of year. 
With probably the largest private collection of plants in Wales, we've got so much to talk about that we're going to add different stories about the gardens.
There's the story about The Legacy of Leo & Lady M: how the derelict garden was cleared and given new life by previous Head Gardener Leo Ekkes and chatelaine Lady Marion Philipps. Our unique collection of Rhododendrons, Magnolias, Camellias and other stunning plants are the result of Leo's devotion to the gardens for 34 years.
If you're into ferns and bamboos, you share the passions of our current head gardener, Roddy Milne, whose 14 year tenure has added new dimensions to Leo's Legacy.
No modern day garden is complete without a good conservation story. We're home to dozens of rare, endangered conifers from as far away as Taiwan and Australia keeping species alive as their natural habitat declines.