Gardens
Awarded the Trip Advisor Certificate of Excellence for three years running and situated within the stunning Pembrokeshire Coast National Park, Picton's enchanting 13th century Castle is surrounded by a spectacular 40 acre RHS Partner Garden full of surprises for all the family.
This is a good family day out which gets the kids away from the phones, laptops etc. It has a huge garden which is full of colour, particularly in the spring and summer and a good walk around the grounds. There is a good cafe with reasonably priced food and drink, made locally and on the premises. Picton Castle and gardens also do themed attractions such as a halloween day and night in autumn with tours around the castle, which is dressed for the occasion. They also have plays, music concerts and various types of displays throughout the year. Well worth a visit, particularly on a sunny day.
Trip Advisor October 2014
Explore the Castle's rich history, discover our rare trees and plant collections from around the world and enjoy the magnificent Rhododendrons, shady woodlands, an exotic jungle garden and colourful walled garden alongside living willow dens, family trails and an engaging adventure playground. The wildlife is abundant and there's plenty of space to run or simply relax on one of our many garden seats to enjoy the tranquillity and take in the views.
Boasting one of the best plant collections in Wales, including an important collection of conifers, roses, medicinal herbs and Rhododendrons, the Estate is also historically and horticulturally important. Recognised by the Royal Horticultural Society, the gardens are now part of their Partner Gardens access scheme.
Exotic trophy plants co-exist with native flora: Bluebell Walk and nearby Peep-In-Walk provide magnificent colour from April onwards. May peaks with the flowering of masses of Rhododendrons, many unique to Picton (including Salomon Jubilee and Picton Maid). However whilst the display is at its best in May and June, summer and autumn bring woodland walks among the massive oaks and giant redwoods and the Jungle Garden, one of the largest in the UK, is still magnificent during October. With an ever changing pattern of colours and scents throughout the seasons, our Gardens never fail to enchant the visitor.
To start with, I really appreciate the Honesty box placed outside before entering the premises of the castle. A few walks in the garden, accompanied by a person who is a master of all types of trees (really how can I always forget that nature is his forte) It was one of the best experiences/walks I had in Wales. 360 degrees viewing, it was mysterious to me. How can such a very beautiful place exist here in the planet? A must see place! It was winter when we visited but really appreciated everything that was ready for me in the garden. I would want to see the place again in the summer I so hope or if not anymore, then maybe in my dreams!
Trip Advisor December 2014
Enter a World of Enchantment
Take A Walk Through the Woods To Find the Fairy Doors
Remember, be quiet, as fairies sleep in the day…
It's only at night that they come out to play.
They hide behind flowers and dance in the air
And if you believe, they will always be there!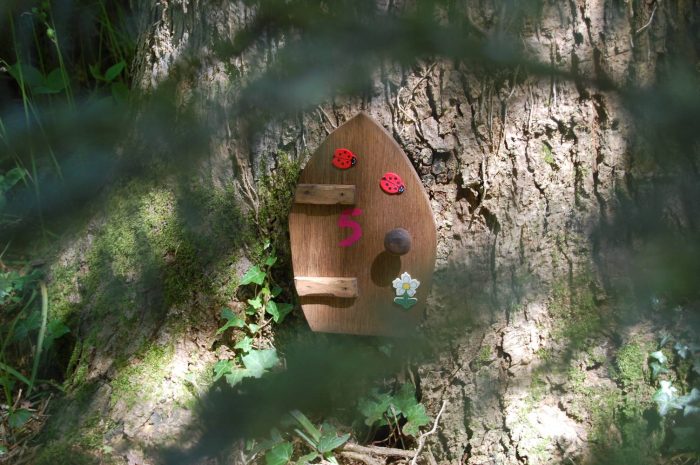 This wonderful new Kids Trail will take you through the Adventure Playground and Gardens – pick up the clues at the Entrance – it's only £1.00 per child and when the children have completed all the questions and found the fairy doors, they can take their answers to the shop to claim their prize!
Elf and Safety Note: All adults must be accompanied by a responsible child!
Woodland Walks
There is a special kind of magic as you stroll beneath some of the largest and oldest trees in West Wales and discover woodland walks and trails with their abundance of wild flowers blended with ferns and unusual woodland shrubs from all over the world. We have added some new trails for 2015 so there's plenty to explore! Unique to Picton are the Rhododendrons raised over the years by our own head gardeners and include rare species such as Myrtles, Embrothium and Eucryphia.
The location is so peaceful and quiet. We spent a couple of hours in the garden exploring and enjoying the children's play area and then went on a tour of the house. I would have liked to see more than about 5 or 6 rooms, but the tour was very down to earth and we were even allowed to sit on the sofa in a couple of the rooms which made for a very friendly experience (its lovely that visitors are made to feel so welcome, unlike some NT properties where you often feel like you are imposing) – oh and there are no "keep off the grass" signs giving you a lovely freedom to roam and enjoy. We had our young 2 year old daughter in tow and she was in total awe of the castle as it was the first one she has ever seen – it was just a shame that a few of the older guests on the day we were there made her (and us) feel very unwelcome but that's not Pictons fault! Lovely cafe. We will be back.
Trip Advisor Sept 2014
The Walled Garden
The Walled Garden is an enchanting riot of colour in the summer months with its elegant fountain, roses and medicinal herbs all meticulously labelled with their remedies.
Walled Gardens are unique in their atmosphere and microclimate. On entering through a wonderful example of exuberant Victorian heavy gates and railing attached to bulky gateposts topped with pineapple finials, it is as if the rest of the world is suddenly quietened. The place you have entered feels shrouded in romance and privilege. Within four walls bird song seems amplified, the noise from outside partially excluded. The scent of flowers lingers and plants and colour jostle for position.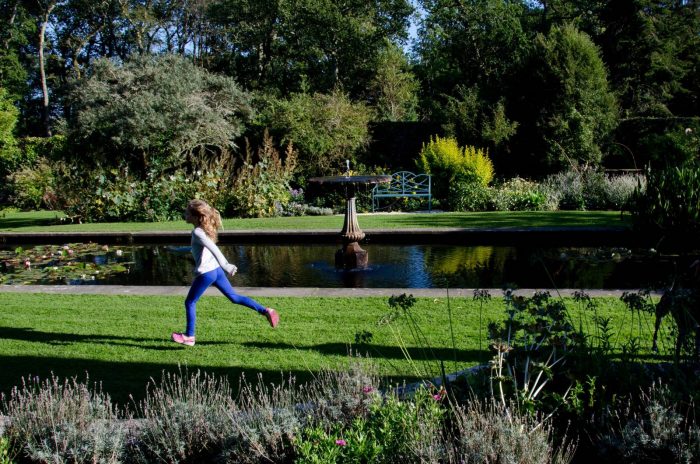 Enclosed gardens provide security from animals and intruders and must be the most ancient form of gardening. It was during the 19th century that walled gardens became the near essential luxury for any country gentleman, serving to supply essential fruit and vegetables to the household and to impress visiting guests with exotic fruit and flowers. They became their most elaborate during the middle of the century and often included vast ranges of greenhouses to force early production and increase the range of crops and flowers that could be grown.
Here at Picton Castle the Walled Garden walls were probably built around 1840 and incorporate heating flues along their entire length. The greenhouses (now no longer in existence) and adjoining buildings to the north (gardener's office, fruit store, potting shed, bothy and accommodation) were built around 1860 utilising the existing walls. The greenhouses were heated by a coal fired boiler connected to four inch diameter hot water pipes.
Today the walled garden contains an eclectic range of vibrantly coloured summer flowering plants mixed up with large billowing ornamental grasses such as Miscanthus and Molinia with perhaps only some grape vines dating from a previous era.
What a great spot – lots for families and people of all ages and abilities to experience. Looking forward to visiting the castle on our next visit to the area. Go and see it!
Trip Advisor Sept 2014
Herbs in the Walled Garden
An extensive herb garden with specimens from all over the world was created a few years ago within the Walled Garden using the base of the greenhouses that once lined the walls. We call it our 'Mediterranean Garden'. In the middle is a seating area covered by a rustic pergola onto which grape-vines clamber, we have a small olive tree that has been there for about ten years and lots of herb plants that are thriving in the hot, well drained soil.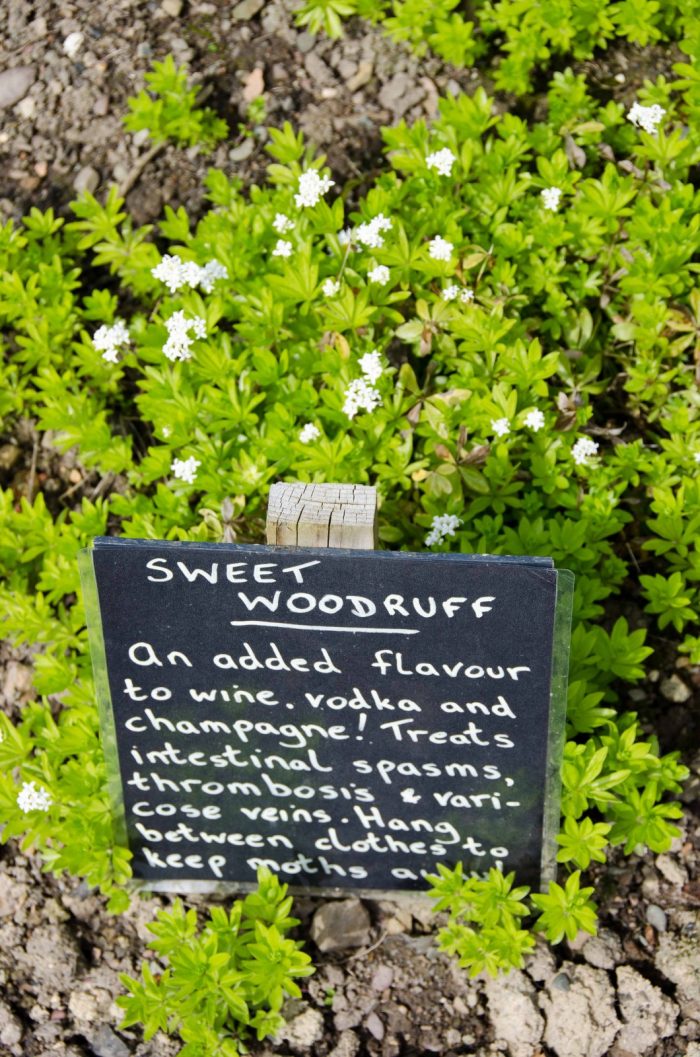 Pond in the Walled Garden
The pond in the Walled Garden is perhaps our favourite feature for children, especially at tadpole time. It is common to see a line of them lying with faces peering into murky depths. Labradors also hold this pond as being irresistible and have to be hauled out by their owners. Despite many fish, this pond still yields many young frogs and toads and has a good representation of dragon and damsel fly species. Water-lilies thrive here including a fine old variety called 'Gladstoniana' with six inch wide creamy white flowers. We also grow reed-mace and Canadian pond weed which would normally be far too invasive for any garden pond but contained within a formal concrete pond are easily controlled if required.
The other pond within the gardens, at the edge of Peep-in-walk, was built around 1800 and used to provide the castle, stables and gardens with water. Adjacent to the pond are two sand filtration houses that have been continuously filtering water without maintenance for over two hundred years. This pond is also home to two foot long European eels which, when fully mature, slither through the ditches and drains in the garden on route to their breeding grounds in the Sargasso Sea in the middle of the north Atlantic.
We are very lucky to have a new trustee here at Picton by the name of Ivor Stokes, a great plantsman and former Director of Horticulture at The National Botanic Garden of Wales. With his help we hope to formulate plans to reinstate some of the other large Victorian ponds that were once an integral part of the woodland garden.
Ferns and Fernery
Between 1850 and 1880 the collecting of ferns and the search for variants of the normal type plant became a fashionable pursuit of country gentlemen and for town people as souvenirs of the countryside. Here in the gardens at Picton Castle we have a small grove of tree ferns deep in the woodland. The 'fern walk' is home to around fifty different types of ferns mixed with different perennials. Seek out the door in the Walled Garden which leads to the Indoor Fernery, a tranquil and fascinating habitat for less hardy fern species from around the world.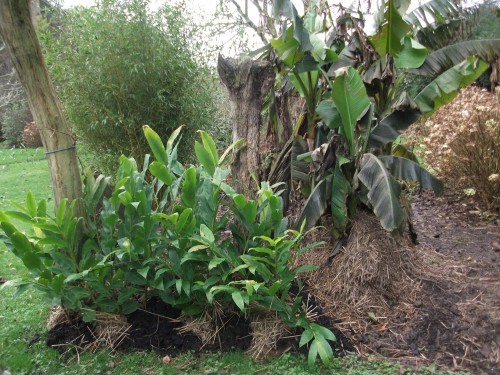 We stumbled upon Picton Castle, and were so glad we did. Deciding on the spur of the moment to follow the signs, we turned up to a deserted car park and an 'honesty box' for donations. It was a drizzly day, but we ended spending a thoroughly enjoyable 2 hours swilling around the expansive grounds. The kids loved the play area and its fort and walkways; the walled gardens and redwood trees were fascinating. Every plant, shrub and tree were labelled so you knew precisely what you were looking at, so very educational too. In a nutshell: a hidden gem, well worth a visit if you are in the vicinity. Visited September 2014
Trip Advisor. Reviewed 2014
Adventure Playground
Younger visitors will find lots to do in the exciting adventure play area and adjacent jungle garden. A jungle boardwalk allows children and adults alike to take an exciting journey through the Gunnera and woodland plantations and the whole family can have a go at finding their way around the maze! New additions to our delightful and hugely popular Adventure Play Area with its mini wooden castle is a new baby willow maze – go through the bamboos and the shrubbery from here and you will link into the new Kids Trail: find all the clues, solve the riddles and win a prize! Reinstated for 2015 is an Outdoor Classroom which can be found in Bluebell Walk and next to the new den building area and the Jungle Boardwalk…. In the main play area we have made large mushroom picnic sets carved from large lumps of wood.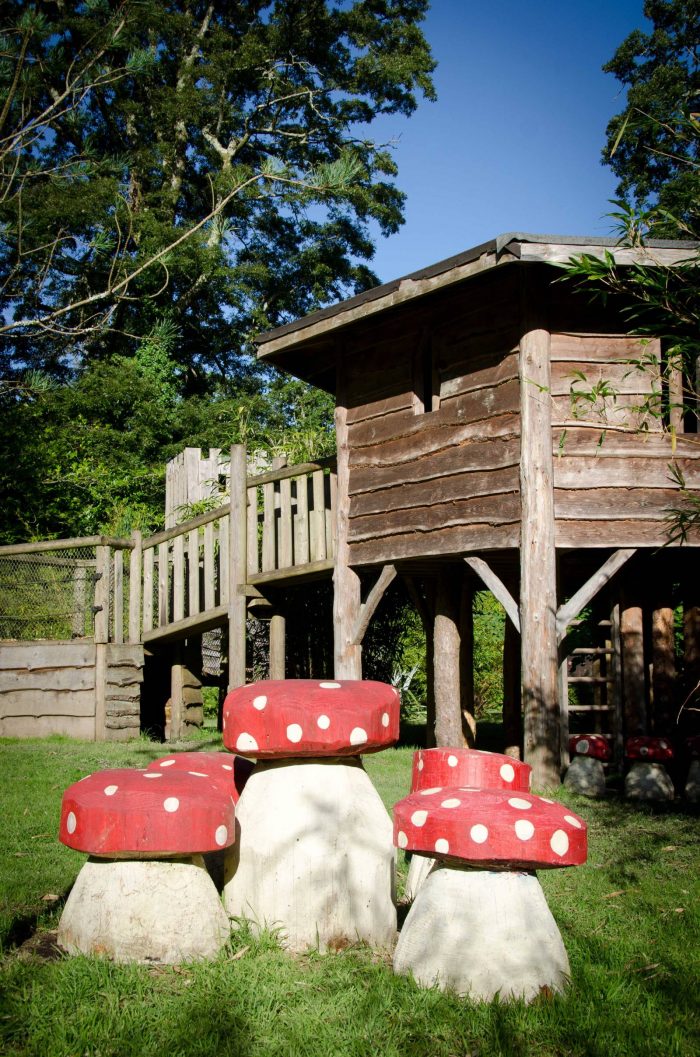 It was a lovely sunny day when we visited Picton Gardens. We didn't take the castle tour but had a great time wandering around the grounds. The boardwalk was fun. Although it seemed to be aimed at children we still enjoyed it,(even sitting on the toadstools in the children's play area). We took a picnic with us as there are plenty of places to have lunch. The walled garden is especially beautiful. Before we left we stopped off to have a cup of tea in the cafe. Well worth a vist.
Trip Advisor September 2014
Jungle Garden
In Edwardian times it was fashionable to grow large, jungle type plants in elaborate and exuberant bedding schemes in public parks and wealthy gardens, and these were wintered in glasshouses. These days gardeners try to emulate a mythical type of jungle, free from leeches, snakes, impenetrable thorny undergrowth and to a large extent rain. It has been found that many of the plants required to create the look are relatively hardy. In our Jungle Garden here at Picton it is surprising the range of plants that have survived two really cold winters. The Japanese Banana (Musa basjo) is spectacular with its five foot leaves and grows to around eight foot tall. Sometimes it flowers and produces miniature bananas.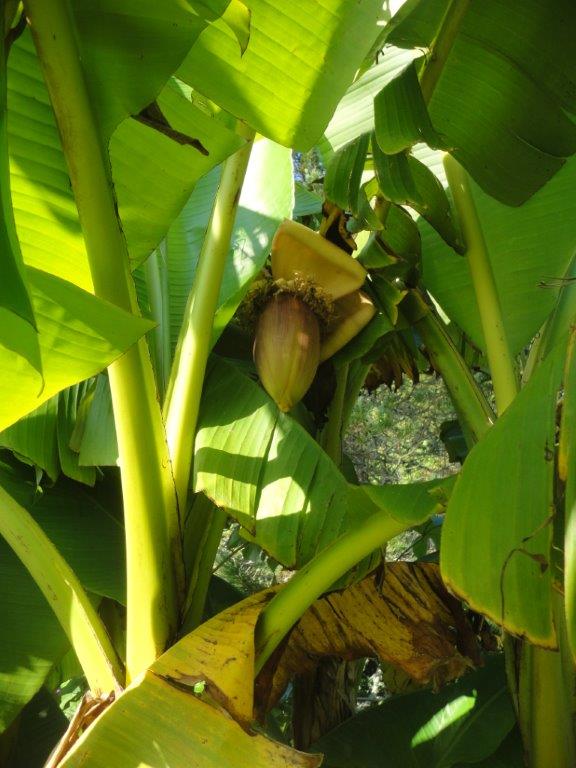 It's fun to break and bend the rules that govern planting design in the Jungle at Picton; the plants are made to vie for space by close planting, virtually covering the paths. Big plants tower over little ones at the front of borders and completely random planting numbers are used. We have incorporated up-ended tree stumps and old branches which help provide structure and more interest. The overall effect is somewhat chaotic, however the magic starts to work around mid-summer when the growth is lush, and this continues until the first heavy frost. Now our Jungle Garden is one of the largest in the UK – and even in October it still looks magnificent and luxuriant!
Conifers
Many species of conifer are endangered through logging or social demand for land. As part of an international conservation programme a large number of species of known wild origin are being grown in British gardens in order to safeguard the plants for scientific research and conceivably reintroduction. The Gardens at Picton have a great number of these all planted around twenty years ago (2015). Many are very rare and are thriving in the Pembrokeshire climate. One beautiful example is the endangered Patagonian cypress (Fitzroya cupressoides, named after Captain Fitzroy of HMS Beagle on whose expedition Charles Darwin sailed). In its few years here these slow growing plants are starting to develop an attractive weeping habit that will become more pronounced as they mature. Another plant that is flourishing is Taiwania cryptomerioides which has gracefully pendulous branches but very prickly leaves. Hopefully one day these rarities will be more widely grown.
We have room at Picton to grow many of the giants of the plant kingdom. Perhaps the most imposing are our two, rather wind beaten, Wellingtonia or Giant Sequoia (Sequioa sempervirens). Planted around 1860 they have grown to around 30 metres and are still young children compared to those in California, their native home, where they live for three thousand years and are the world's largest living thing.
Planted at around the same time is our beautiful Western Red Cedar (Thuja plicata), which in a hugely sculptural manner occupies a large area just outside the entrance to the Walled Garden. It has wonderful upswept branches that in places have touched the ground and rooted to form separate trees. Another giant here is an enormous European Silver Fir that has stood on a bend of our main drive for over two hundred years. It has enormous branches that spread horizontally before bending acutely and heading skyward for a hundred feet and contains as much dead wood as live, so is much loved by woodpeckers.
Gorgeous Grounds: We saw signposts for Picton Castle and decided to stop by on a whim. Unfortunately as it is out of season we were unable to visit the castle itself but wandered around the grounds which are simply glorious. I imagine it is even more beautiful in the summer although we wouldn't have had the luxury of the place pretty much to ourselves. Can't wait to go back when it is open.
Visited October 2014
One of our Head Gardener's favourite areas of the Gardens in 2016 has been the meadow which covers about an acre and lies to the south of the Castle. "With every tour of the gardens with a group I find myself waxing lyrical about the gentle movement of grasses in the wind, the finches and swallows flying above and the masses of wild flowers that form a gentle kaleidoscope of colour." says Roddy. This area has been a meadow for a long time. I have been told that it was ploughed up to grow potatoes during the Second World War but since then it has been cut for hay only once a year after the wild flowers have set seed. This is the key factor in maintaining and developing a diverse meadow, as the annual removal of hay reduces the vigour of larger grasses enabling flowering plants room to compete.
Over the last twenty years the exact cutting time has been dictated by the seeds dropping from the wild flowers. We now have a couple of orchid species in residence, namely the early purple and the southern marsh orchid, which means we will not cut the meadow until some time during August when the seeds of these species have been shed. Another beneficial development in the last four years has been the arrival of an annual plant known as Yellow Rattle. This pretty and innocent looking little plant is a parasite on large grass species and has greatly reduced their vigour which in turn allows more room for desirable flowering plants. Its presence has noticeably increased the floweriness of the meadow. The increasing variety of flowers has led to a great rise in insect species including many types of bumble-bee and a great variety of moths. The most striking and obvious of these is the six spot burnet moth which is very plentiful this year. All these bugs and seeds also attract a little flock of goldfinches which only take flight when you walk near them in the long grass. Swallows and house martins are constantly swooping in search of insects.
Meadows full of wild flowers used to be a common sight throughout Great Britain but a gradual change in farming practice, in particular the use of fertilisers and frequent cutting for silage, has seen their nationwide demise. Although you might think that a meadow is not a practical idea for a small garden, I know many proud owners whose meadows are the size of the average bedroom and provide them with endless delight.
In gardening terms there are basically two types of meadow; the annual and the perennial meadow. The annual meadow is cultivated during the winter months with a rotavator (or plough in large areas) in order to create a seed bed onto which is sown an 'annual wild flower seed mixture'. When this grows up during the summer the bright and cheerful display of poppies, cornflowers, oxeye daisies and many other wildflowers can be spectacular. The process of cultivating and sowing is repeated each year. You can collect your own seed from the hay produced during the previous year.
Creating a perennial meadow is a more patient process, with the quality improving each year as the fertility of the ground decreases due to the annual removal of hay and the non-application of fertilisers. A good starting point is that most existing garden lawns are already quite rich in 'weeds' (plants other than fine grasses) so as soon as the area is left un-mown these other plants grow and soon start flowering. The important thing is that cutting and removal of the hay does not take place until July or later, when these plants have set seed. Each year new plant species will appear in your meadow, presumably from wind blown seed, and slowly the diversity will increase. The first few years may look like a weedy mess however this situation will slowly improve.
Here at Picton we have chosen not to 'garden' our meadow by physically adding new plants or seeds. However in certain areas where there are less seeds in the air, or to speed the whole development process, this may be desirable for some owners. There are specialist seed and plant nurseries that can provide seed and small or 'plug' plants of wildflower species suited to your soil type . In order to grow, the seeds need to be in contact with the soil. A simple way to achieve this is to turn over small patches of ground using a spade and sow the seed onto the exposed soil. The same process is effective to introduce new plants, where each plant can be allocated a little area of soil, removed from the competition of other plants until it becomes established.
If the area is large enough, elegant curving paths can be kept mown through the meadow. This will make your meadow look more deliberate (rather than people's presumption that your mower has broken) and allow access for observation. Not only will a mini-meadow in your garden provide you with an attractive flowery show but it will also provide fascinating insect and bird watching opportunities as well as contribute to the diverse ecology of your garden and the surrounding area.
We hope you enjoy your visit to our Gardens – and don't forget – if you need a break, we have a delightful historic courtyard with Gift Shop, Plant Sales and Art Galleries. Picton is the perfect place to take a picnic, but if that doesn't take your fancy, Maria's Courtyard Restaurant serves lunches, teas and ice-cream to refresh after all that walking!
An impressive schedule of events complements our Award Winning Garden for all seasons. See our Events Page for more information.