Country Fair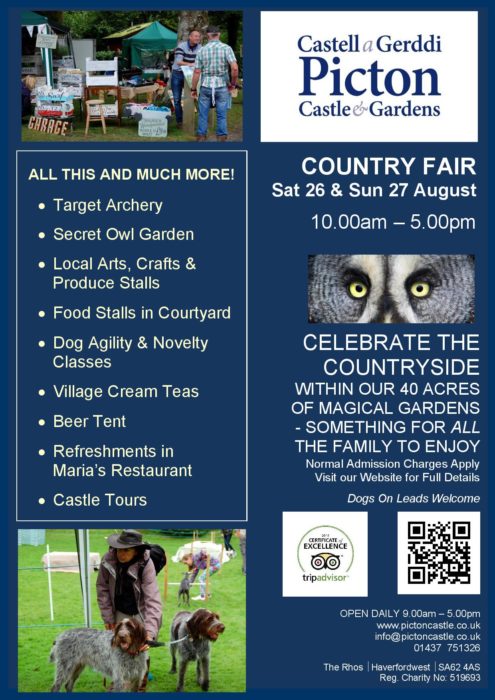 Come along to our Country Fair  and celebrate the countryside in a fun-filled weekend for all the family – and that includes the family pooch! This amazing event is now a firm favourite in our calendar. With lots of things to see and do there is something for everyone: from  Dog Agility and Novelty Classes to The Secret Owl Garden and Target Archery. There's so much to see and do – not to mention our wonderful food,  art, craft  and produce stalls, a Beer Tent and Village Cream Teas!
Craft Stalls can be found in The Courtyard and Gallery,  Refreshments in the Restaurant and Courtyard, Beer Tent and Village Cream Teas on the North Lawn
"It's unthinkable to have a British countryside that doesn't have actual functioning farmers riding tractors, cows in fields and things like that"  
Bill Bryson
The Great British Tradition Of Country Fairs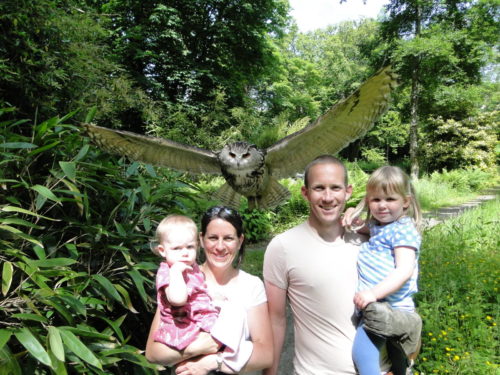 From local produce and crafts, to dog shows and target archery, country fairs are just one of the great British traditions which still have the power to remind us of a slower pace of life.
With their origins in medieval times, these old-fashioned fairs would be a meeting place for traders to congregate. Before the advent of 'proper' roads and the mobile phone, scattered communities came together to share farming know-how, flirt behind the haystacks and possibly find some work for the coming year.
Access and communication may be easier now but, thankfully, the country fair has retained its place in many rural societies. The machinery and methods of farming may have changed, but the heart and soul behind these events remains.
Whether they are little village affairs or massive county gatherings, a country fair has the ability to give us a glimpse of another world, another era, and take us back to childhood holidays.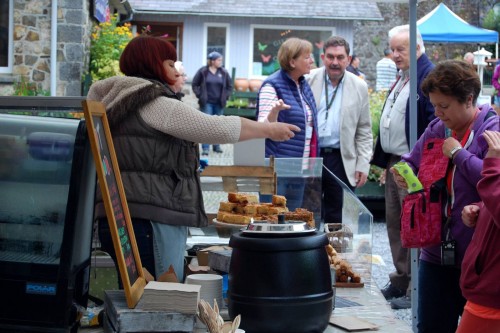 Originally held mid-week, country fairs are now largely held over weekends so that everyone can enjoy pursuits once everyday stuff to country folk, yet splendidly alien to many of us. Picton Castle and Gardens has embraced the old with the new, heralding this great British tradition as an annual event within the boundaries of our 40 acres and the glorious backdrop of the Castle.
If you're bringing along your family pooch, there's an opportunity for them to strut their stuff in the novelty and pedigree dog show classes.
The only place to head after such energetic participation is our Courtyard Restaurant – Maria @ Picton – where an indulgence of fine food will round off the experience – and then there are the Village Cream Teas…the Beer Tent….The Picnic Box….
 Target Archery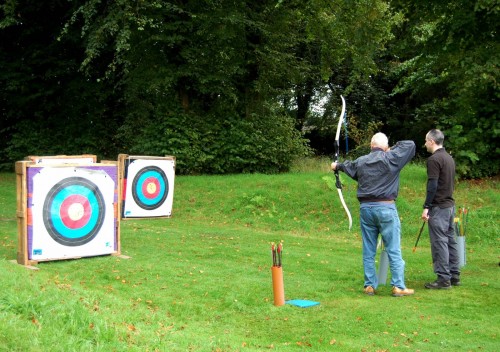 Come along and have a go at target archery, with instruction from qualified coaches and experienced archers from Castle Archery. Almost anyone can take part in this challenging sport, there are even ultra-lightweight bows that tiny tots can shoot, but finding the 10 ring is harder than it looks in the movies!
Beware, archery can be highly addictive!
The Secret Owl Garden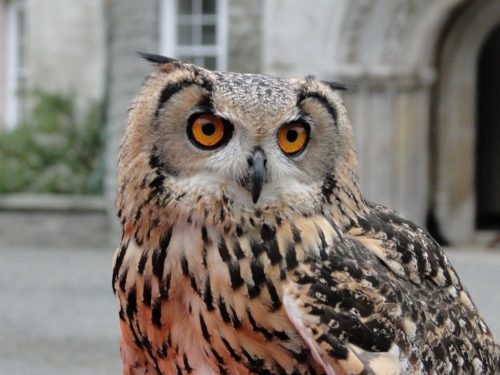 Tucked away amongst the stunning woodland and wild flowers of Blue Bell Walk is Pembrokeshire's largest collection of owls and home to 25 species.
Hidden within the trees, each aviary is designed specifically for each owl or pair of owls. 'Hand-reared owls naturally identify with people, so they prefer to live on their own and have the freedom to come out and fly around the gardens every day, usually hoping to make new friends. The parent-reared owls on the other hand, prefer to stay with their own kind so live in pairs – and one day will raise a family of their own.
Throughout the day all the owls have an opportunity to stretch their wings and fly around the centre, however the team also run family friendly interactive sessions where people can learn about some of their 'super powers' such as silent flight, their highly developed and incredibly sensitive hearing systems,  and how the different colour of owls' eyes do more than help you identify the species.
The daily activities at The Secret Owl Garden are enjoyed by all ages from 2 to 92. Owls like 'Plop', the Barn Owl, or 'Little Hoot' – a perfectly apt name for a Little Owl – like to join their new friends at Story Time and children can also enjoy Fudge's Treasure Trail of Hoo's Hoo where they can learn which owl is which. Families can pick up their 'hoo's hoo' adventure guide at the shop when they arrive to help them find out where all the owls are hiding whilst they explore the gardens.
The Secret Owl Garden offer group taster sessions and private experiences. Group taster sessions are run throughout the day and can be booked on arrival at the shop. These 45 minute sessions give guests the chance to fly an owl to their gloved hand on the castle lawn and of course take lots of photos!
Private experiences offer the chance to fly three different species of owl through the woodland gardens. Here you will be given the opportunity to fly a small, medium and large owl so that you can feel the difference in weight, see their different styles of flight and hear the different noises that they make.
Even our really big owls are super friendly, so they can be flown by the smallest of people. Make sure you take at least a short amount of time to stroll through Bluebell wood to spot the owls when you visit today!
Novelty Dog Classes
Best Adult Handler
Best Child Handler 12 Yrs and Under
Dog With The Waggiest Tail
Best  Dog under 12 Inches High
Best  Dog Over 12 Inches High
Dog In Best Condition
Best Long Coat
Best Short Coat
Best Veteran (7 Years & Over)
Dog Judge Would Most Like To Take Home
Best Rescue Dog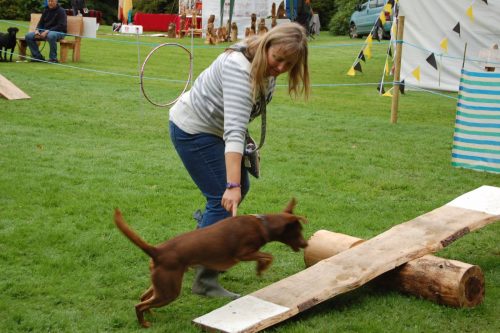 Some of the Arts, Crafts and Produce Stalls You Can Expect To See 
Check Back Regularly for Updates, Links and Synopsis
Bolgoed Wool   When making the decision to keep sheep John and Maggie Harris chose the Lleyn breed which originates from North Wales.  Maggie discovered that they also have lovely soft wool and  went on a spinning and dyeing course. She now processes all the fleeces by hand. This involves washing, dyeing, carding and spinning, making a yarn ready for knitting or weaving. Most popular are wool and knitted items in the natural colour but new ideas have produced yarns of mixed colours, some  incorporating silver and gold thread and even beads. Home knitted items include hats, scarves, mitts, bags, cushions and waistcoats. Some wool is woven into rugs and table settings.
Jan-Jo  Stunning and Intricate Hand Beaded Jewellery and Pebble Art
John Dooner  Animal Artist specialising in country subjects and in particular, horses, dogs, farm and domestic animals and wildlife – original paintings, prints and cards (Commissions undertaken)
Carol's Crafts  Handknits, Pincushions and Tidy-Trays
Chantler Teas  A small family business recently moved to Pembrokeshire, Chantler Teas will be selling a wide range of premium, ethically sourced loose leaf tea and tea accessories including their own unique Welsh blends
Other Stallholders Include
Joan Gravell  Fine silver jewellery inspired by nature
Jackie Peck Soaps
Nomads – Ethnic and Fairtrade Clothing
Judith Hannington Glass
See Green
Welsh Heart Co
Suzy's Uggs
Mabli Jack – Welsh crafts
Country Markets
Cusan Liquer
Karen Cole Art
White Tree Crafts
Tatanne Bazaar Rustic Vintage Furniture
Please Check Back Regularly for Updates, More Information and Links
 The Country Fair takes place at Picton Castle and Gardens on
Saturday 26 & Sunday 27 August 2017  from 10.00 am – do join us!
Admission Prices 
Adults  £7.00, Seniors £6.00
Children  £4.00
Family Ticket £24.50
Under 5's : Free
Those Little Extras…
Take a Castle Tour and see the controversial 'Picton Renoir' as featured on the BBC series of Fake or Fortune