Art Exhibition by Theo Crutchley Mack and Tim Arthur
1 – 31 August 2018*
Courtyard Gallery
Please note that this exhibition cannot be viewed on 17, 18 and 19 August whilst the Summer Fair is taking place. The paintings will be back on view in the Large Gallery after 20 August.
Theo Crutchley Mack
At the age of 16 Theo became the first teenager to design a 50 pence coin for the Royal Mint which was later released into circulation throughout the United Kingdom. This sparked a specific interest in drawing which has driven his visual journey through to the current day.
Theo went on to pursue this interest and studied BA (Hons) Drawing at Falmouth University in Cornwall. The University location allowed him to develop his interest in maritime life and link it closely to his practice.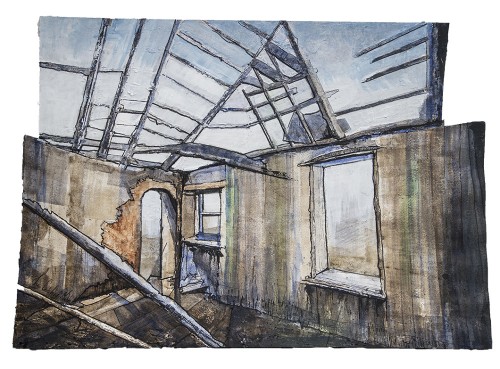 Having lived and studied on the coast in many parts of the UK,  Theo has become fascinated by the detrimental affects of nature on man-made structures, and is drawn to the fragmented histories of abandoned vessels and wrecks. Theo connects with these places by spending many hours drawing and painting on location. These drawings then feed more sustained works created in the studio at a later date.
"These ruins have a profound effect on the atmosphere of a landscape and it is this which I attempt to capture within my drawing."
The obsession with grime and decay is a consistent theme in Theo's work.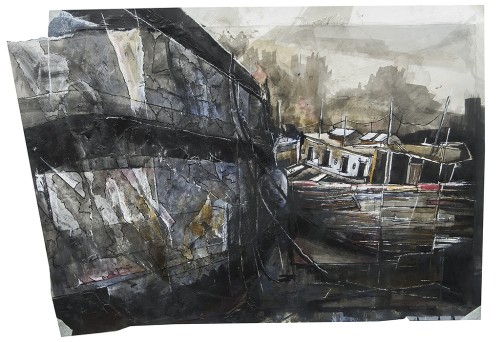 Keep up to date with Theo's latest projects here: https://www.facebook.com/theocrutchleymack/
Tim Arthur
Supporting Theo will be a display of work by Tim Arthur. Trained as a teacher at the Central School of Speech and Drama in London, Tim specialised in set design and scenery construction.  During this time he began to paint the unlovely and forgotten places of Camden in North West London and found a ready market for his paintings amongst tutors and fellow students and exploited the "Swinging London" scene, selling his lurid hand-painted posters to American tourists from the railings at Hyde Park.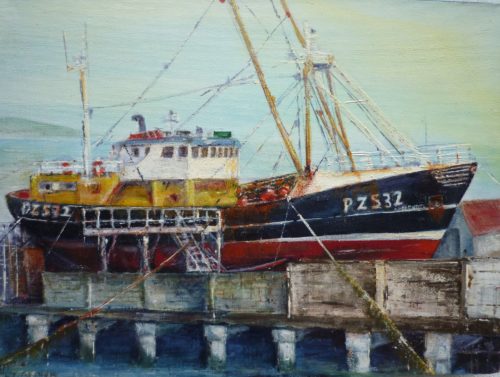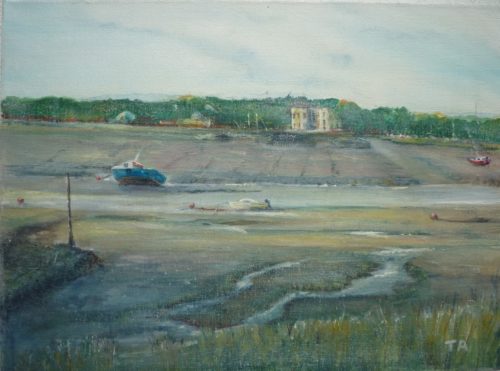 Tim has recently rediscovered his interest in painting and design. He was commissioned to create the "Spanish feel" at Casa Maria's Restaurant in Haverfordwest, and  Maria's Picton Castle Restaurant.  As a Supporting Artist, he regularly exhibits at the Waterfront Gallery in Milford Haven.  Tim has developed an eye for the off-beat and quirky locations in Pembrokeshire and Cornwall  – in particular the boat-yards and estuary creeks neglected by holiday guide books which are reflected in his paintings.  His other passion is to paint the volcanic landscape of Lanzarote and the spectacular spoon-shaped prows of  Spanish Atlantic Trawlers!