Christmas Wreath Making Workshop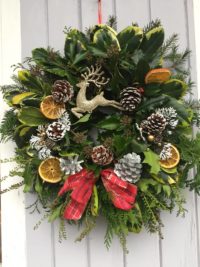 Friday 14th December 2018
Would you like to learn how to make your very own Christmas Wreath and then take it home.
Come along and join us at this wonderful, friendly, festive workshop hosted by our in house florist.
All materials are provided along with tea, coffee and cakes.
All you need to bring are and apron, secateurs, gloves and your festive spirit.
Workshop times are 9.00 am – 12.00 noon and 1.00 pm – 4.00 pm
Season Membership Price £22.50
Non Season Membership Price £25.00 
Pre-booking is essential for this very popular workshop.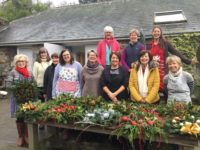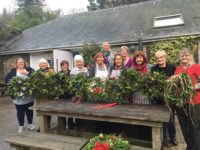 All Purchases: You can purchase goods or tickets and pay online from the PaypPal site using either PayPal or a Credit or Debit card in which case no PayPal account is necessary.

Ticket Purchases: If you prefer to pay for tickets over the phone using a Credit or Debit card, please ring 01437 751326. The tickets will be posted to you if time permits, otherwise they can be collected at the ticket office on the night. Please note that tickets are non-refundable.

Season Ticket holders must add their card number under the "Additional information" section of the checkout form in order to receive their discount.

A CARD TRANSACTION FEE of £1.50 is added to each order. This shows as "Shipping" or "Postage and Packing" in your shopping cart or on PayPal.