'Side by Side' A Joint Exhibition of Art by Anita Woods and Ali Scott
2 – 31 July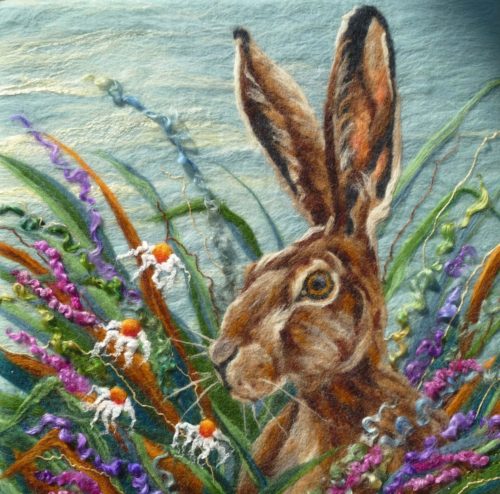 'Side by Side' is an exciting joint exhibition by Felt Artist Ali Scott and Figurative Artist Anita Woods. Despite working in very different media Ali and Anita's work sits happily 'side by side' reflecting their shared delight in the diverse landscape, seascapes and animals of West Wales. Their mutual passion for colour, texture and the ever changing light of their subject means there will be something to appeal to everyone who visits this exhibition.
Ali Scott – Felt Artist
Ali is an experienced feltmaker with a passion for transforming fleece into vibrant felt 'paintings'. Since leaving Art College in the late seventies, Ali has lived and worked in rural Ceredigion. She discovered the ancient art of feltmaking in 2004 and it has become her medium of choice ever since.
Ali's work is a response to the wild and beautiful places that abound here in Wales, the seasonal shifts, changing light, colours and textures of the landscape and coast provide endless inspiration. She is primarily a 'wet felter' and works mostly with ethically sourced Merino wool, sometimes incorporating animal and plant fibres, spun yarn and fabrics to achieve the desired outcome. Working with fleece and fibre can seem deceptively simple yet has infinite possibilities, often with unpredictable outcomes. Ali loves to 'paint' with the 'wool tops' (dyed, carded fleece), building up layers of fibres to create a rich depth of colour. It can take many hours to 'lay out' a design and when it is complete the 'wet felting' begins. A little soap and warm water is added, pressure is applied through rubbing, rolling and throwing and the transformation begins. As the fibres mat together the resulting fabric is worked vigorously to strengthen and shrink it. When the process is complete, the work is stretched onto a frame ready for hanging.
'Creating my pictures is a real joy and it gives me great delight to work in this medium.'
Ali exhibits widely and has work in several private collections in the UK and abroad. She is a member of The International Feltmakers Association, Origin, Carmarthen and The Ceredigion Art Trail. Alongside her work, Ali sells a range of greeting cards and is an experienced workshop facilitator. She also welcomes commissions. www.aliscottfeltartist.co.uk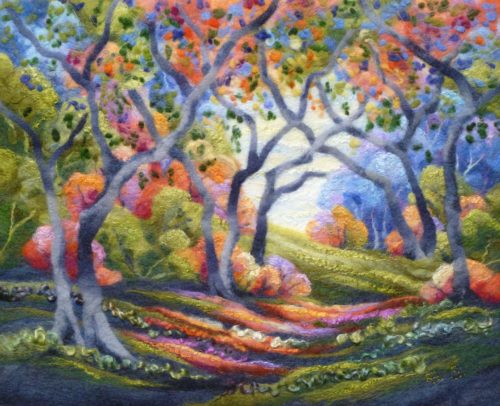 Anita Woods – Painter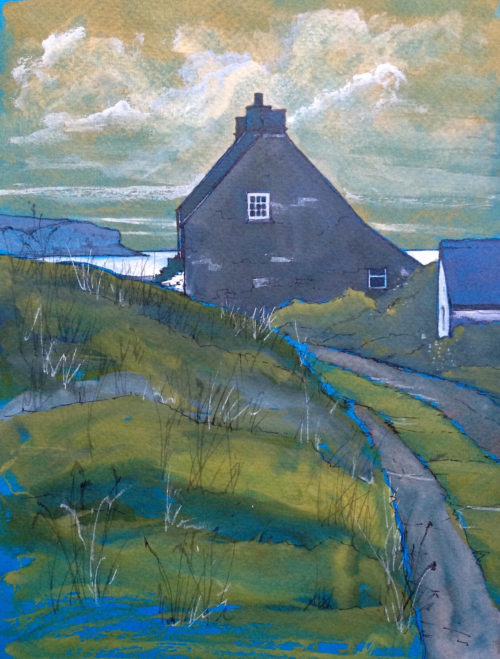 Anita Woods is a figurative artist inspired by the animals, landscape and sea of West Wales where she lives and works. She paints mainly in mixed media and sometimes in oil or watercolour using unusual coloured and metallic grounds.
A member of The Ceredigion Art Trail and Origin Carmarthen, Anita is represented by The Bay Gallery in Aberystwyth. Her work is also in private collections worldwide. She runs art workshops and painting holidays in beautiful surroundings near Devils Bridge, Ceredigion.
'I spend a lot of time walking in West Wales, an area which inspires many of my seascapes. The sea is always so close, a constant presence and all my walks draw me towards the sea – a shaft of light, a silvery surface, a crash of a wave. I am led down a grassy lane, over a wooden stile, along a rocky cliff. I am constantly trying to capture the changing light on the surface of the sea and the buildings within the surrounding landscape. The mood is always shifting from calm to windswept and stormy. There is such a huge array of colours in the sea and sky. The shadows shorten and lengthen as the sun moves through the day and the same view can appear completely different depending on the light, time of day and the weather.' www.anitawoods.net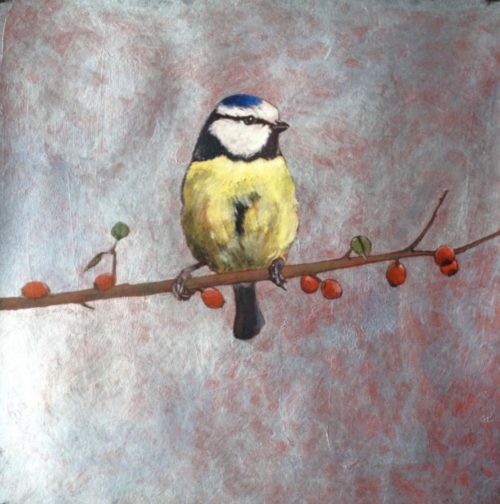 This Exhibition Can Be Viewed in the Small Gallery – Entrance through the Gift Shop