Spring Fair

Saturday & Sunday 12 & 13 May 2018
10.00 am – 5.00 pm (last entry 4.00pm)
There's something invigorating about spring and we find ourselves taking a good look at the garden and musing about new features. A visit to Picton Castle's Annual Spring Plant and Craft Fair is the perfect way to get some new plants and to stock up on some unique gifts and crafts to add colour to your world.
With over 30 wonderful stalls to browse through, and the added advantage of 40 acres of awesome springtime woodlands to wander through, plus, tours of our 13th Century Castle, The Secret Owl Garden and a lovely restaurant where you can 'people-watch' whilst enjoying a speciality coffee and something tasty, it's a really memorable day out for all the family!
There's Also ….
Story Time at The Secret Owl Garden
Saturday and Sunday at 11.00am, 1.30pm and 3.30pm – make your way to The Secret Owl Garden's 'Centre Circle'
Throughout the course of the weekend, you can also see over 15 species of owls as they take it in turn to fly free at The Secret Owl Garden. There will also be opportunities to hold an owl!
Display of Aston Martin Cars – Castle Forecourt
( Saturday 12th May Only – Times to be Confirmed)#]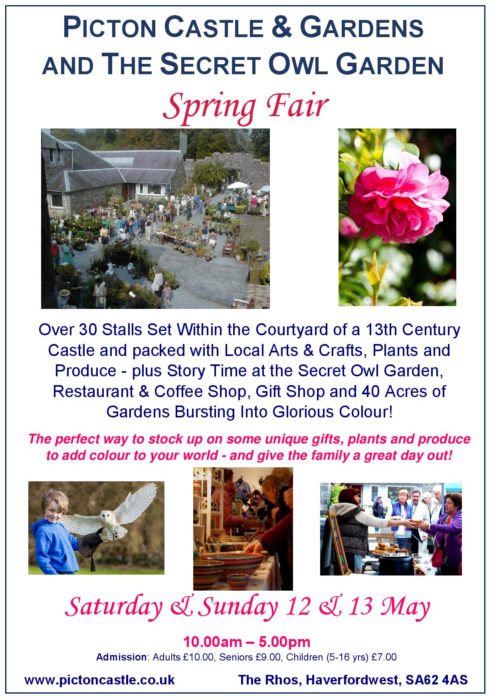 Some
of the Plant, Arts, Crafts, and Produce Stalls You Can Expect To See 
Keep checking back as we will add more information both here and on our Facebook pages regularly…
Flutterbys  Hand made especially for you! Cushions, doorstops, lavender bags, bunting etc from beautiful designer fabrics
Just Bee – natural products and honey
Alison Todd Ceramics Colourful, hand thrown earthenware ceramics, including cups/mugs, bowls & dishes plus ceramic buttons and brooches
Fused Glass by Joan Edwards  Handcrafted, fused glass in a variety of forms: mirrors, bowls, coasters, jewellery, leaded pieces
Pebble Stories  Art from Stones. A local artist from Carmarthenshire, Simon uses finds from the seashore and woodlands to produce work that represents memories  and stories that relate to him and his family (pets included!). (Commissions undertaken)
Jan-Jo  Stunning and Intricate Hand Beaded Jewellery
Cuddlezoo childrens clothes
Tatanne Bazaar  Vintage items and hand-painted furniture in Shabby Chic and Folk Art styles, in fact anything vintage from cake stands to linen; collectables to the odd tweed jacket. Jen also undertakes commissions for furniture upcycling
For Plants and Gardens..
Martinsell Bird Boxes, Insect Houses and Planted Pots
Poppit Plants
Carrigans Perennials
Humus Garden
Other Stalls Include
Gorsewen Arts – Beautiful, handcrafted silver jewellery
Helen Thorp  – Artist Blacksmith
Recipe for Health – Vegan and sugar free goodies
JenPink – Welsh themed crafts
Eliza May – Bags and doorstops
Blossomviolet – Super Hero themed cushions and bags
Levicta wines
Cariad Glass – Handmade stained glass
Ffres Cook – Aprons
Cariad Knots – Unusual knot jewellery
Wickedly Welsh Chocolate Co.
Nomads  Ethnic and Fairtrade clothing
Farmers Food at Home – Chutneys
Joan Gravell  Fine silver jewellery inspired by nature
Admission Prices
Adults £10.00; Senior Citizens £9.00; Children Aged 5 – 16 £7.00
Admission includes entry to The Secret Owl Garden
Booking and Payment for Castle Tours can be made in the Gift Shop
Saturday & Sunday 12 & 13 May 2018
10.00 am – 5.00 pm (last entry 4.00pm)
Shoppers Note: We are all used to using our credit and debit cards so much these days, that it may be useful to note that our stallholders may not have card facilities available on site