Sunset Cinema and Picnic in the Park: The Rocky Horror Picture Show (Cert 15)
Friday 4 & Saturday 5 August 2017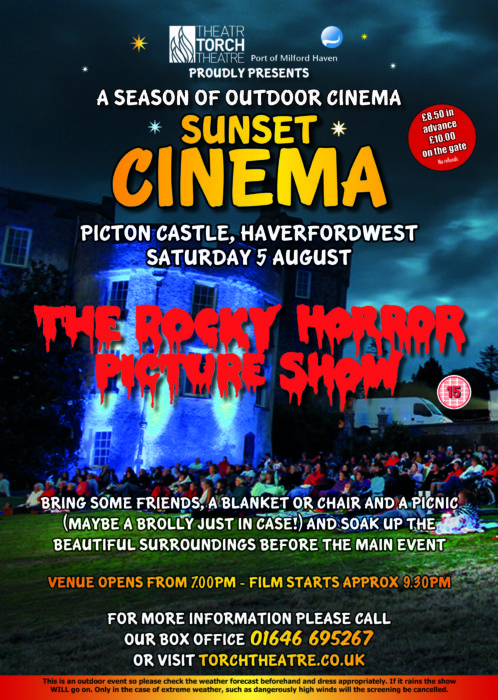 In collaboration with Milford Haven's wonderful Torch Theatre and the Port of Milford Haven, we are delighted to bring you two fun filled, sun filled evenings of outdoor cinema singalong for you!
Fancy dress for this Sunset Cinema event is encouraged!
Set on the south lawns of the Castle we will be showing two great hit movies 
Friday 4 August HAIRSPRAY  (Cert PG)
Tracy Turnblad, an overweight teenager with all the right moves, is obsessed with the Corny Collins Show. Every day after school, she and her best friend Penny run home to watch the show and drool over the hot Link Larkin, much to Tracy's mother Edna's dismay. After one of the stars of the show leaves, Corny Collins holds auditions to see who will be the next person on the Corny Collins show.
With all of the help of her friend Seaweed, Tracy makes it on the show, angering the evil dance queen Amber Von Tussle and her mother Velma. Tracy then decides that it's not fair that the black kids can only dance on the Corny Collins Show once a month, and with the help of Seaweed, Link, Penny, Motormouth Maybelle, her father and Edna, she's going to integrate the show…..without denting her 'do!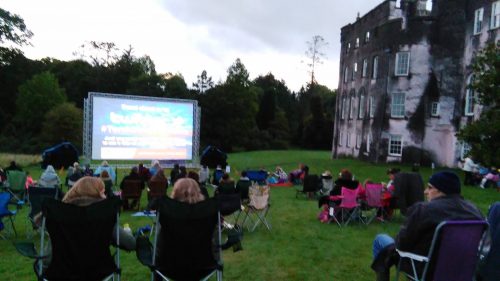 Saturday 5 August  THE ROCKY HORROR PICTURE SHOW (Cert 15)
Brad and Janet, newly engaged, stumble onto the castle of Dr. Frank-N-Furter during a rainstorm. Taking refuge in the castle, they're present for the doctor's unveiling of his newest creation, Rocky. Over the course of the night, Frank seduces both Brad and Janet, Janet and Rocky become involved biblically, Dr. Everett Scott arrives looking for his son Eddie, and it all goes to pot when the guests discover that Frank is actually an alien (a transvestite from the planet Transsexual in the galaxy Transylvania) who's succeeded in creating the Sonic Transducer, "an audio-vibratory physiomolecular transport device" capable of "breaking down solid matter and then projecting it through space and, who knows, perhaps even time itself…" A true cult classic.
  The film commences at dusk (around 9.30pm) but doors open at 7.00 pm for you to enjoy your picnic in our beautiful Gardens. So bring along your summer feast and a blanket and sit back and enjoy! If the weather decides to be typically British on the night – then it's business as usual – just bring your rain-hat and waterproofs and enjoy your entertainment festival style!
Maria's will be open for pre-movie food, or you can pre-book a picnic from her, just call the Restaurant direct on 01437 751346 or E-Mail: pictoncastlerestaurant@hotmail.co.uk
Friday & Saturday 4 & 5 August– Gardens open at 7.00pm
Film starts at approx 9.15pm
TICKETS
Available from Picton Castle Tel: 01437 751326
Purchased in Advance: £8.50
On the Gate: £10.00
SUNSET CINEMA WILL BE SCREENED IN ALL WEATHERS WITH THE EXCEPTION OF VERY HIGH WINDS
The grounds will open at 7.00 pm to allow for picnics on the south lawn
The site for the screening will be the South Lawns of the Castle
Maria's restaurant will be open for pre-movie food (booking advisable)– you can pre-order a picnic from Maria and her team 01437 751346
Hot drinks available
No seating provided
Parking is available in the Castle Car Park (approx 500 yards to the screening site)
Sorry – no dogs can be admitted to the grounds when evening events take place
Toilets adjacent to the Castle
Alcohol is permitted – plastic glasses only please
No smoking on site
No naked flames or gazebos