Sat, August 1st, 2020
So Much New to Do…
The lovely weather is perfectly timed to coincide with lots of new things to do at Picton. So much that we hope you will be able to fit it all in!
Welsh Owl Garden
One of our firm favourites with the 'young at heart' of all ages is, of course, our wonderful Owl Garden. But there are a LOT of new residents over there, and not all as cute as a Barn owl! You can now meet and, in my case admire from a knee-quaking distance, a huge range of creatures, from snakes and reptiles to invertebrates. If you are brave enough you can hold them, getting up-close and personal with an Asian Forest Scorpion or even a Tarantula, (yikes). Different animals are brought out to meet visitors throughout the day, so no matter what time you go into the Owl Garden there is always something scary to see, lucky you!
But the wonderful owls cannot be overlooked. Introducing Spike, the 4 month old Burrowing Owl. He took his first flight this week and he was amazing. Burrowing Owls are tiny and he was so proud of his achievement, Sir Spike, we applaud you!
Our latest recruit to 'the learning to fly brigade' is our 8 week old African Spotted Eagle Owl. You can watch him in his downy feathers starting his flight training outside; it's still a bit hap-hazard, bless.
At all times of the day different birds are brought out to fly, some to learn, some to train and some simply for the love of flying. No matter when you visit you will see birds out and about in the garden. One of my favourites are the Barn owls. Did you know that the UK is one of the very few places in the world where they are known to fly during the day?
New Activities in the Gardens
Not to be out done by the owls, over in the rest of the garden we are putting on lots of new activities for all the family. The ever popular Jungle Board Walk and Adventure Playground are now both open for riotous rollicks…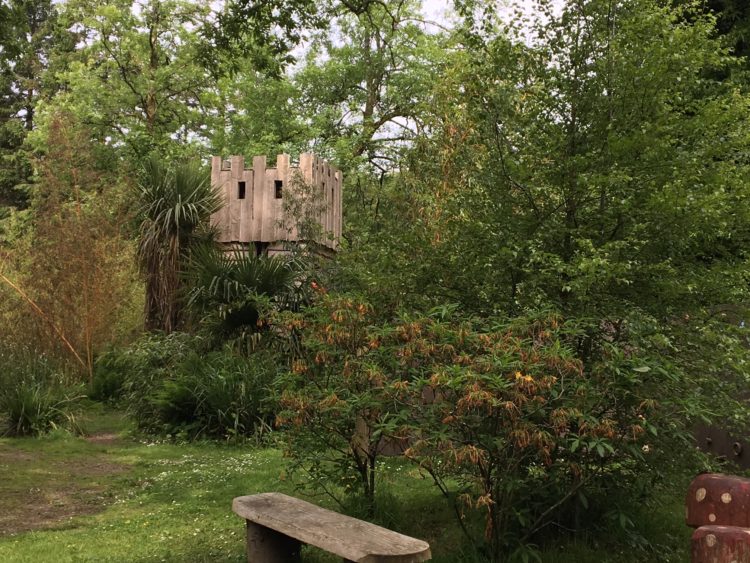 In the week commencing 3rd August 2020 we will be offering new activities in the Gardens. There is a Puzzle Hunt aimed at slightly older children. You will be begin with a single clue. This will lead you on to new locations and clues throughout the garden. Can you solve the mystery of the Puzzle Hunt?
There is also a Garden Trail quiz for children, all about the rare and unusual trees we have in the garden: and we have some amazingly weird trees. You will follow a map around the garden to find the different trees and learn a little about them and there is a prize at the end (the Tree Trail costs £1 per child).
This tangle of trunks is actually one tree and when you are next to it, one of the branches looks like a giant nose!
We really hope you will enjoy this host of new things to do in the Gardens and there are lots more planned so watch this space!