Sun, October 27th, 2019
The Autumn Garden
The change of the seasons is here and Picton's grounds are a feast to the senses. The last of summer's bloom has faded away and the misty golden hues of Autumn are in evidence through every part of the garden. The trees are in their full glory of reds and golds, the sedums are coming into flower, gleaming spiders webs are draped in morning dew and the soft light of a low-rising suns sends long shadows dancing on the lawns.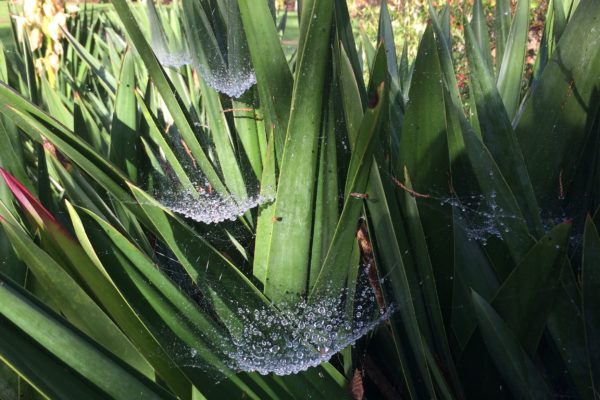 Plants that are coming into their own at this time of year are the ornamental grasses such as miscanthus, and a particular speciality of Picton are the ginger lilies , which are starting to flower now. We have one of the biggest outdoor collections in the UK of these sub-tropical plants: from the soft white and yellow hues of the 'Tai Mammoth' to the very rare deep orange Hedychium Deceptum (which was only discovered in 1994).  Our lovely temperature climate in Pembrokeshire means these exotic plants really flourish here.
The Walled Garden restoration project is now running at full steam. Some of the flower beds have been cleared of plants to allow the crafts men access to the walls and the first section of scaffolding sections are being erected. In the courtyard (to the side of the Walled Garden) the inhabitants, such as slow worms, lizards, frogs toads and newts have been carefully collected and lovingly given new homes else where in the garden. We have put up reptile and amphibian proof fencing to keep them out of the area while work is underway.
The wider wildlife is also very busy. The naughty squirrels are in evidence everywhere. You may well see them darting across the ground with camellia seed pods in their mouths, which are bigger than their heads! They open the pods, absconding with the seeds to bury for winter leaving the discarded husks are scattered everywhere across the grass in lawns and shrubberies near the castle. The bats are to been seen seeking warm winter homes and have recently been seen in the murder hole above the entrance to the castle. We think that they want to ensure our visitors for Halloween feel their spooky tour is as authentic as possible. We hope we don't scare you too much…