Mon, January 13th, 2020
The Winter Garden at Picton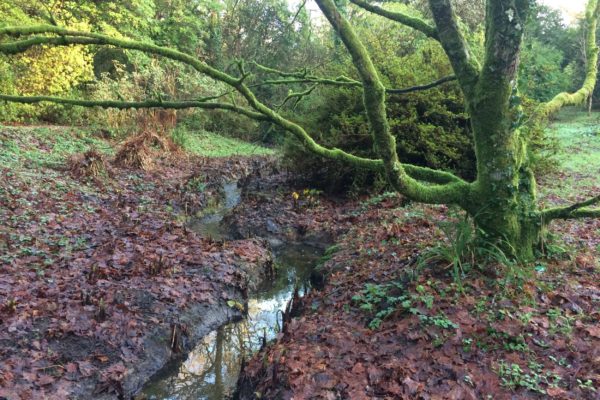 Very few people know about our newly created Winter Garden tucked away in the woodlands near the Peep-In Walk. It has been planted with winter interest and colour in mind. It is made up of some familiar seasonal favourites such as birch and dogwood in unusual varieties, all laid out in complementary and eye-catching planting schemes. There are a number of highly colourful witch-hazels, which provide a wonderful splash of yellow in these dark months. Another little-used plant that we are hoping you will enjoy are the range of shrubby honeysuckles (Lonicera fragrantissima). These variants of the more famous climbers begin flowering about now and provide a wonderful and rare scent in winter. Even more significantly they are an important early flowering plant for bee species who may be making an appearance soon, indeed their re-emergence seems to get ever earlier in these mild winters.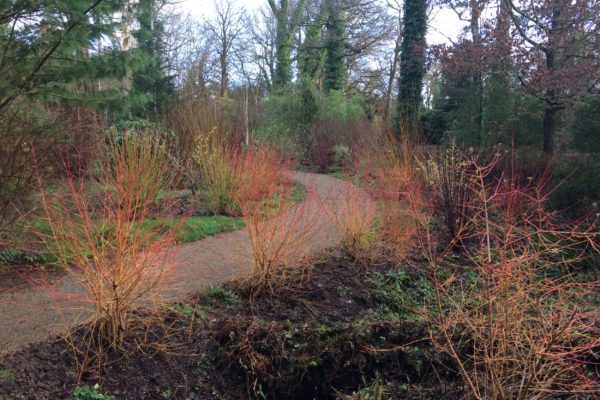 Picton is rightly famed for its specimen rhododendrons that usually flower in May. However, one of our early flowering varieties (Rhododendron nobeleanum) is beginning to come into flower now, which our head Gardener Roddy, says isn't that unusual for the temperature woodland climate we have here at Picton. Roddy has also planted some willows which have dark red catkins, which will be amazing when they are in full 'flower' in a week or so.
This new garden has a lovely path in a quite open and sunny part of the east garden, so is dry underfoot, and at this time of the year you can even see the little babbling brooks that are normally cloaked in ferns in spring and summer.
Over in the Walled Garden even the smallest hint of sunlight turns the south facing wall into a balmy mid-winter retreat. The sheltered warmth of this garden is really reflected in how far advanced the plants in the Mediterranean Walk are at this time of winter. The palm trees look luxuriant, the fennel is already a few feet tall, and the arbour is newly restored giving a secluded spot to enjoy the winter sunshine. Although you may well have to share the space with the cheekiest and fattest robins you can imagine.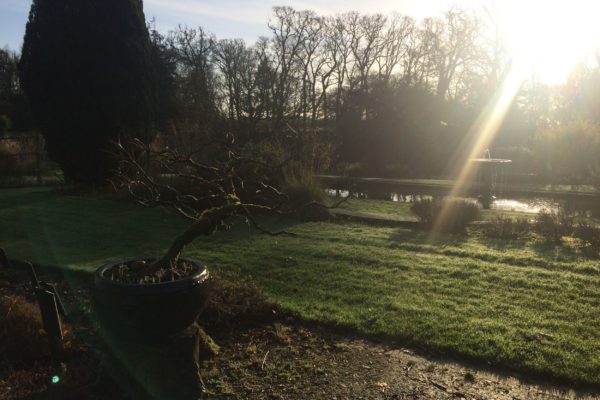 Plant of the Week
There are many dogwoods which are spectacular at this time of the year such as Cornus 'Midwinter Fire'. However an unusual one that is worth considering for its unusual colour is Cornus alba 'kesselringii'. This variety has an extremely dark red stem, almost verging on a purple/black. When planted amongst its more showy cousins (such as Cornus Alba 'Sibirica') it provides a wonderful depth to the palate of winter colours available in the dogwoods.